RESOURCE | Medical Practitioner Information Pack
Thursday, 21 May 2020
We have expanded our molecular pathology department at our main Mile End laboratory. With this new laboratory, Clinpath are able to provide onsite COVID-19 testing, supported by an array of COVID-19 collection services.

The Medical Practitioner Information Pack includes all the key information you need to know about our COVID-19 services.
It is presented digitally, via our website clinpath.com.au/covid-19/medical-practitioner-information-pack/
For any questions or queries please do not hesitate to contact your local BD Client Liaison.
We also encourage you to stay aware of our updates via our website, here: clinpath.com.au/clinicians/news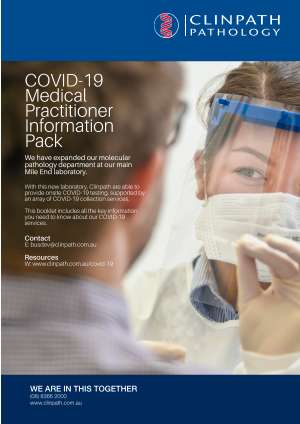 Click here or image to open booklet